Dr. Michael O'Reilly is a Senior Neuroradiology Fellow in the University of Washington Department of Radiology. Dr. O'Reilly is training in diagnostic neuroradiology and interventional radiology with a focus on health services research and comparative effectiveness analysis in order to identify the most effective ways to organize, manage, finance, and deliver high quality care while improving patient safety.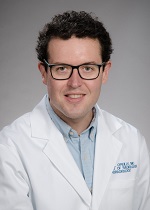 Dr. O'Reilly's study, Rates of Vertebral Augmentation for the Treatment of Osteoporotic Vertebral Compression Fractures among the Commercially Insured is a retrospective cohort analysis of patients with osteoporotic vertebral compression fractures in the IBM MarketScan® Research Database of Americans with employer-provided health insurance. For his study, Dr. O'Reilly analyzed a cohort of patients who had thoracic and lumbar osteoporotic fractures and calculcated the proportions who were treated with vertebroplasty and kyphoplasty, collectively termed vertebral augmentation. This study provided data on a notable knowledge gap regarding vertebral augmentation in younger patients, particularly with regard to kyphoplasty. Interim results of this study indicate that vertebral augmentation is highly utilized in this younger patient cohort, with rates of kyphoplasty in particular increasing in recent years.
Dr. O'Reilly will perform further analyses on this cohort of patients with osteoporotic fractures in the IBM MarketScan® Research Database that will compare healthcare utilization, including opioid use, complication rates, and spine surgeries, and costs among patients who did and did not receive vertebral augmentation.
Other projects of Dr. O'Reilly's include a study to determine the prevalence of reported findings on lumbar spine imaging examinations performed subsequent to a patient's index visit to their primary provider during the LIRE study, as well as a project to assess the materials available to create radiographic high-fidelity anthropomorphic phantoms using 3D printing and common and commercially available castable materials.